Pedestrian Accident Attorneys
The Best Pedestrian Accident Lawyers in Los Angeles
Bilingual Pedestrian Accident Attorneys in L.A.
Defensor Latino: L.A.'s Pedestrian Accident Lawyers
Being involved in a pedestrian accident is one of the most severe personal injuries someone can endure. These accidents occur when a pedestrian is hit by a motor vehicle, often resulting in more serious injuries and accidental death. If you or a loved one has been involved in a pedestrian accident in Los Angeles, Defensor Latino has the personal injury attorneys you need to litigate your case.
Do not leave your pedestrian accident case in the wrong hands: Get the expert legal counsel you deserve by scheduling a free consultation with our pedestrian accident lawyers today!
Understanding Pedestrian Accident Law in L.A.
Common Pedestrian Accident Injuries
Whether you are crossing the street, walking down a sidewalk, or waiting for the bus on a public bench, a pedestrian accident can happen when you least expect it. These accidents can result in injuries that vary from minor to life-threatening, including:
Soft Tissue Damage
Bone Fractures
Spinal Cord Injuries
Traumatic Brain Injuries
Scrapes, Cuts, & Lacerations
Accidental Death
At Defensor Latino, our team has years of industry experience helping pedestrian accident victims with a broad range of injuries secure the best outcome for their case. Schedule your consultation with our pedestrian accident attorneys today!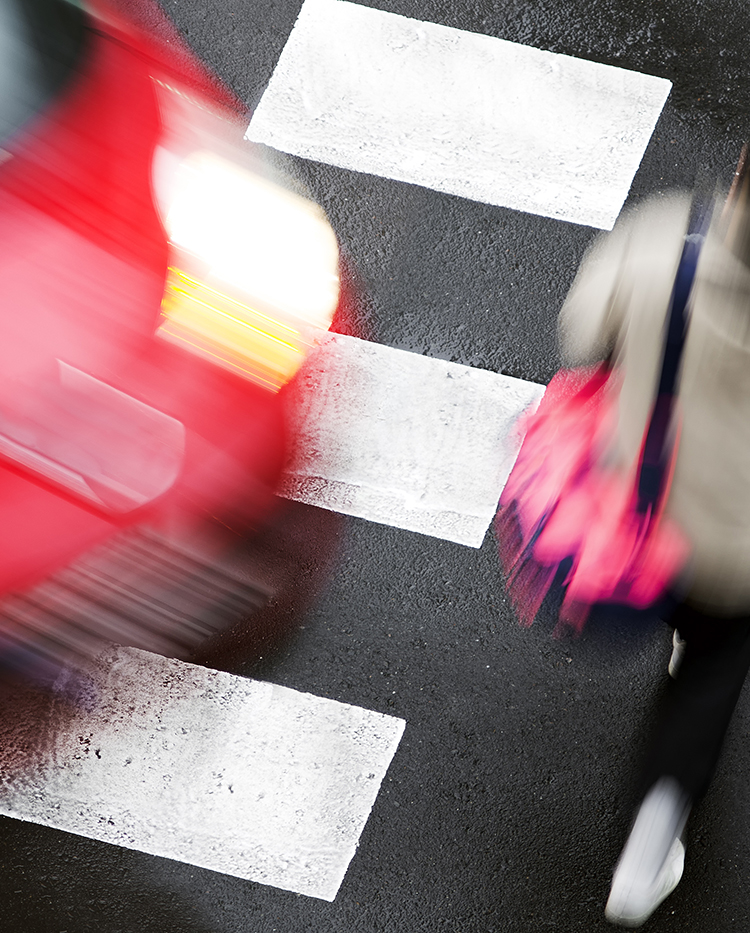 Common Pedestrian Accident Causes
What we see causes the most Pedestrian accidents
According to the Centers for Disease Control and Prevention (CDC), pedestrians are 1.5 times more likely than a passenger in a motor vehicle to be killed in a car crash. Moreover, in 2017 alone, approximately 137,000 pedestrians were treated in emergency rooms for non-fatal injuries. The most common causes of pedestrian accidents include:
Alcohol/Drug Consumption: Nearly half of all pedestrian accidents involve drug or alcohol impairment by the driver or pedestrian.
Hit and Run Accidents: This happens when a pedestrian is hit by a driver who then fails to report the accident and fleas the scene of the crime.
Crosswalk Collisions: Many people are hit in crosswalks when vehicles are making left-hand turns at night and fail to see the pedestrian crossing the street.
Parking Lot Accidents: Whether a driver is backing out or pulling into a parking spot, they may fail to ensure the path is clear and end up striking a pedestrian.
Additional Risks: Walking in areas where vehicles travel at higher speeds or walking at night in urban areas at non-intersection locations can increase your risk for being involved in a pedestrian accident.
Have you been involved in a pedestrian accident? Defensor Latino can help! Contact our team to schedule your free pedestrian accident consultation today.
Were you involved in a pedestrian accident and need to know your options?
California Laws and Pedestrian Accidents
How to understand who is at fault
In California, pedestrians are defined as any person who is on foot or who uses a conveyance such as roller skates, skateboards, and the like — except for bicycles. Pedestrians can also be considered persons with a disability who are using a tricycle, quadricycle, or wheelchair. According to the California Driver's Handbook, drivers must:
Exercise caution, reduce speed, and stop if necessary when approaching a pedestrian crossing at a corner or crosswalk — even if the crosswalk is in the middle of the block, unmarked, or at a corner without traffic lights.
Do not pass vehicles stopped at a crosswalk.
Do not drive on sidewalks, except to cross it when entering or exiting a designated driveway, alley, or parking garage.
Do not stop in a crosswalk.
Allow sufficient time to pass for pedestrians in specific classes, including the elderly, disabled, and those with young children.
Obey signs pertaining to pedestrians.
Drivers must also remember that if they have made eye contact with a pedestrian, it means they are ready to cross the road and they should exercise the appropriate caution. In this case, drivers must yield to the pedestrian who has the right of way.
Seeking solutions following your pedestrian accident? Defensor Latino can help. Contact our team to schedule a consultation with our L.A. pedestrian accident lawyers today!
Pedestrian Accident Law FAQs
When should you hire a pedestrian accident attorney in L.A.?
Immediately following a pedestrian accident, you should call our attorneys at (818) 726-7100 for a free consultation. Unless you are questioned by the police, do not speak to anyone else about how the accident occurred. Our team will handle every aspect of your case, including reporting the accident to insurance carriers.
What will a pedestrian accident attorney do for you?
Once you contact the trusted pedestrian accident attorneys at Defensor Latino, our team will carefully review your case at no charge. If you decide to hire our team, we will coordinate with certified medical specialists to secure the care you need for your injuries. Our team will advance any and all costs, and you will not pay the attorney's fees until your case is settled.
Your Post Pedestrian Accident Checklist
What should you do if you have been in a pedestrian accident in L.A.?
Call 9-1-1 and request law enforcement to come to the scene of the accident and file a report.
Ask politely for witnesses to stay until the police arrive so they can provide their version of events.
Ask any witnesses for their names and phone numbers if they have to leave and cannot wait for the police to arrive; be sure to provide this information to the officers.
Inform law enforcement of any injuries, pain, or discomfort as soon as they arrive; even if they do not ask.
Get the license plate, make, and model vehicle that hit you.
Request immediate medical attention and an ambulance if you are dizzy, have double vision, have headaches, or are nauseous.
Agree to the at-fault driver's request to not call the police.
Trust the at-fault driver's request to keep this "between us" or trust an arrangement for them to pay for damages out-of-pocket to avoid an increased insurance premium.
Assume law enforcement will obtain the names, phone numbers, or addresses of witnesses to the accident.
Assume that if law enforcement spoke to a witness, their information and statements will appear on the collision report.
Assume you are not injured because there is no blood.
Wait several days or weeks to contact a knowledgeable pedestrian accident attorney.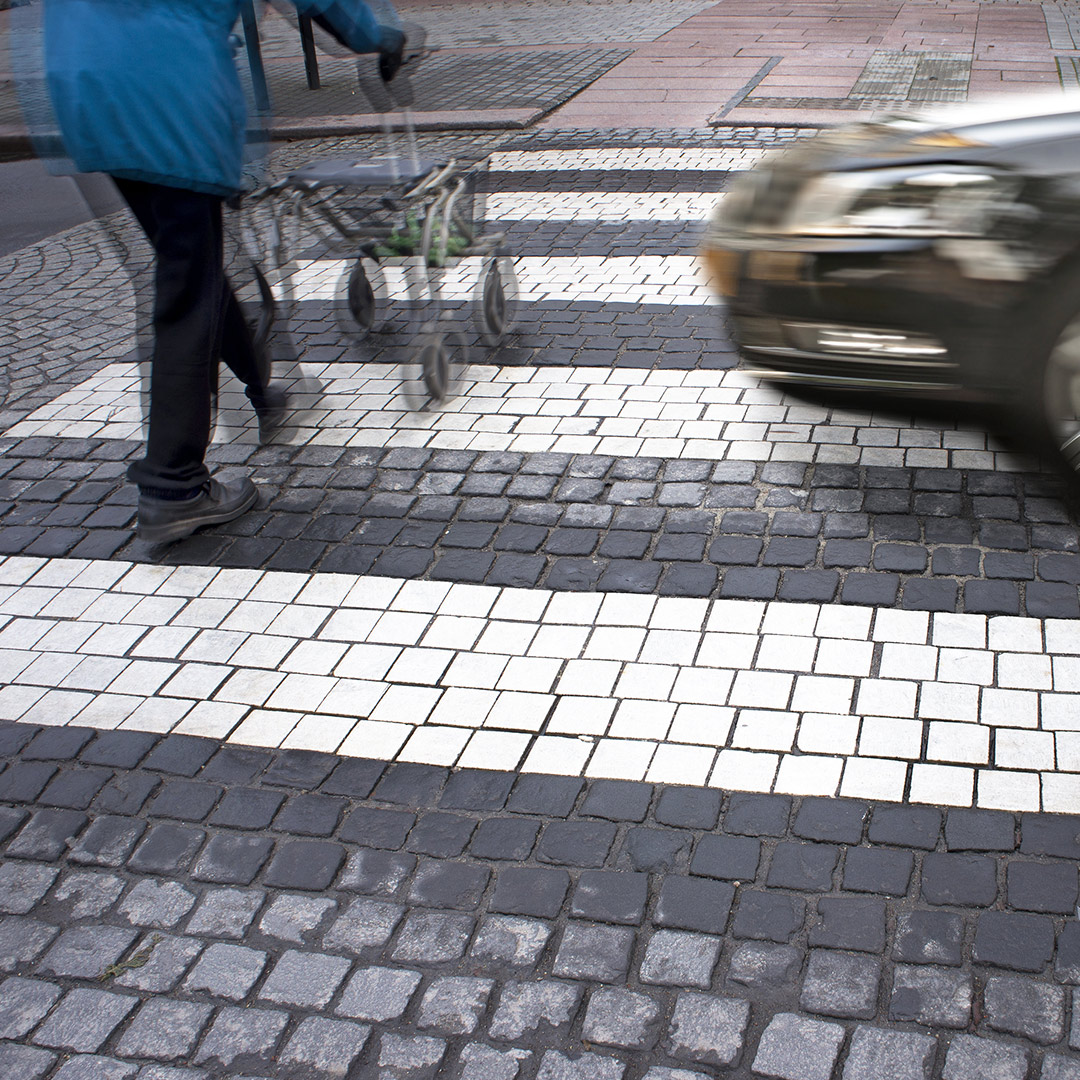 What to Expect
What is the process from injury to settlement?
After suffering a pedestrian accident, call us immediately at (818) 726-7100. From there, we will evaluate your case and, if you decide to hire us, we will refer you to a certified medical specialist who will treat your injuries. We will request the collision report and report your case to all necessary parties the same day we are hired so long as the paperwork is signed before 4 P.M. on a weekday.
You will also be assigned a "medical concierge;" a designated member of our staff dedicated to scheduling appointments, guiding you through your medical treatment and offering options for your injuries even if you do not have medical insurance. Do not worry about court fees, hearings, court dates, depositions, or mediation hearings: We settle 93% of all our pedestrian accident cases out of court. Our team only files a lawsuit on your behalf when it is absolutely necessary to secure a better outcome for your case.
Defensor Latino: L.A.'s Pedestrian Accident Attorneys
Trust the Experts
At Defensor Latino, we are dedicated to acting as your partner following a pedestrian accident event. We have a proven track record for handling and resolving pedestrian accident cases all over the state of California, settling hundreds of cases with extraordinary results. Allow our team to secure the best outcome for your personal injury case by requesting a free consultation with our pedestrian accident attorneys today!